Monday, November 29, 2010 at 11:47AM
Mic's Six Tips for Perfect Holiday Pics on KCAL 9!
November 30th at 2:30pm!
1. Busy makes you Dizzy. Stay away from busy prints. Your clothes do not need to match perfectly so relax! The sure bet is blue jeans and white shirts or blue jeans and black shirts, but otherwise don't get too specific in a color scheme. Just make sure your colors are in the same vein. Natural colors are best such as earth tones or soft blues, evergreen, tans. Just make sure there isn't one shirt that stands out such as a bright red shirt among all neutral tones, etc.
2. Don't Pout It's Dinner Out! Make it a fun night out, not just a photo session! There's nothing wrong with promising a trip to see Santa at the mall afterward, or a visit to their favorite restaurant!
3. Smile at the Dial! Your camera is smarter than you think… Those little icons on your camera dial are there for a reason so use them! They actually work! If you don't have the silhouette icon, then use your Auto Mode if you are not used to Manual.
4. Attach the Flash. Turn off your on-camera flash to avoid harsh light and use an attachable flash. Learn how to "bounce the light" off a large light colored surface whether it be the ceiling or a wall. Most heads swivel and offer a beautiful glowing light if outdoor photography is not an option! My App pick for this tip is the "Light Meter"
5. Invade the Shade. You'd be surprised how beautiful natural light can be right in the shade. Look for an even light, not one spackled with shadows. Some unexpectedly beautiful light can be found under a tree near the trunk, or in your front doorway, even in a dingy garage. Not every location needs to be beautiful, sometimes the beauty comes simply from the light itself.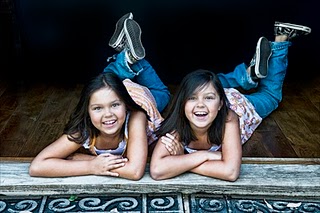 6. The Golden 40. When shooting outside or at the beach, shoot 20min prior to sunset and 20 min after! Download the "Sunrise Sunset" app to your iPhone and you can find out exactly when the sun sets at any beach in the world!
*Check out our TinyPrints Store Front for card ideas!
I hope these pointers help out a little bit. Ultimately the goal is to have HAPPY faces shining from your card, so don't forget the number one thing to keep in mind is ENJOY THE PROCESS! Leave yourself plenty of time so as not to rush anything, allow the crankiest elf to select their own outfit and work your color scheme around that, and bring lollipops! Maybe even work the lollipop into the photo! Get the big fun swirly kind and let the kids (or grown ups) rock it! It's the season of JOY, so keep reminding yourself…the process of capturing the image is just as meaningful as the image itself so make it fun for all involved and you just might be the saint of their holiday.
One last thought, please don't forget your favorite charities this holiday season. My two favorites are a part of my family now: The Iraq Star Foundation, Providing free reconstructive surgery to our troops returning from Iraq and Afghanistan. As well as The Tempered Steel Organization, Uniting wounded soldiers and the public through dialogue.Both support the troops and are helping to bring peace, hope, love and joy to many military personnel this holiday season.
Happy Holidays to ALL!
Mic's App Picks for Better Pics!
Portrait Photography 101
Kid Friendly Restaurants
Photo Trainer
Light Meter